Top 8 FAQs for Installing LED Linear Profile Lighting
Posted September 3, 2019 by Natalie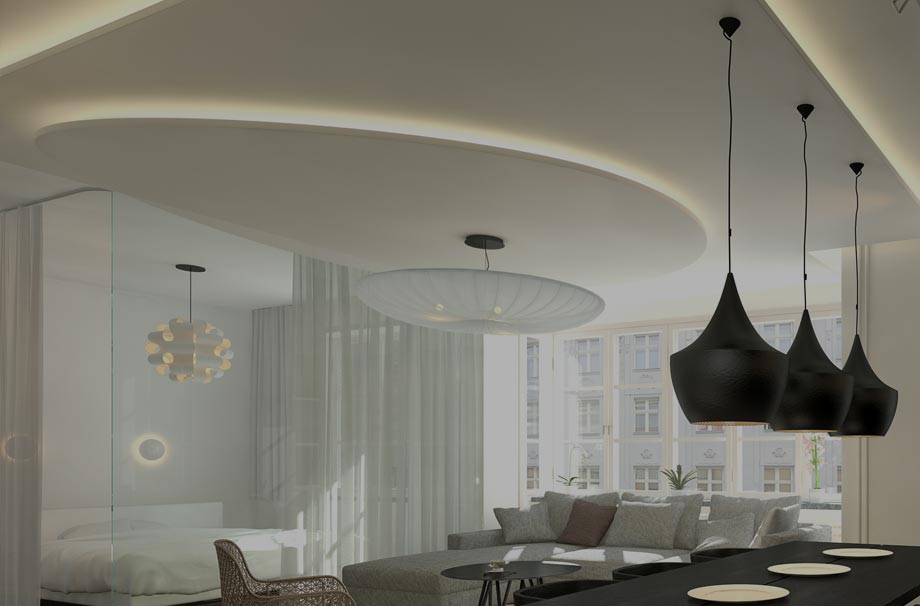 Indirect or concealed lighting is becoming an increasingly popular choice for commercial and domestic lighting schemes. Here at Darklight we use it a lot in our own lighting design projects and we also sell a range of specialist architectural LED linear and profile lighting brands that are especially designed to suit specific types of application. We thought it'd be useful to compile a list of some of the most popular questions we get asked by lighting trade specialists, interior designers and architects about how to install hard wired, recessed strip lighting. So here goes…


FAQs

What trimless or plaster-in profiles do you sell?
Our most popular trimless or plaster-in recessed LED linear profile brands are LED Profilelement and Nama - all of which are installed within the plaster structure. We also recommend Eleni Lighting and the DLD Architectural Topline and Inline cove lighting ranges, which include both plaster-in and surface mounted LED profiles.

Do I need the drywall or the plaster skim version?
Referring to LED Profilelement - if you're tape and jointing the plasterboards then you'll need the drywall version (which is the standard version). If you're full skimming then you'll need the plaster version which has the word 'Plaster' in its title.

What is the maximum power LED strip I can put in the profile?
The maximum power LED tape strip that you can put in the profile is 32W per metre for the steel profiles and 19.2W per metre for the aluminium profiles.

Can I rebate the profile?
Recessing the LED profile in to a channel that's been routed or chased out of the wall, ceiling or surface is possible when using the DLD Inline 8, for example, as this is used when looking for neat finished linear lighting within cabinetry. This means that the profiles do not protrude from the structure on which they are mounted.

What lengths do they come in?
This varies depending on the manufacturer:

Can I paint the coving that conceals the LED profile?
Referring to Eleni Lighting and Nama – yes, the coving is primed so that you can paint it as normal with your preferred type of paint to match your colour scheme.

Can I buy corner pieces or do I need to mitre the profiles to go round corners?
You can mitre most profiles for the corners, although some Nama products do offer a corner piece instead. You can find these corner pieces on each individual Nama product page - scroll down to the bottom to see the section titled 'More Like This'.

Do I need the fleece lining?
Referring to LED Profilelement - only use fleece lining when using the drywall LED lighting version because it helps with the bond between the profile and the plasterboard to give a seam-free and crack free paint finish. You can see how it works in this installation video for concealed lighting, from around the 1 minute mark onwards.




Hope we've been helpful. If you can't find your question here contact us through Live Chat on our website, email sales@darklightdesign.com or call us on 01189 882294.  Alternatively, if there's a question that you think would make a good addition to the above list, we'd really appreciate your sharing it with us.

Best of luck,

The DD Team.

Image credit: header image courtesy of LED Profilelement.
---
---