Create the Right 'Feel' When Lighting Your Outside Space
Posted April 6, 2018 by Natalie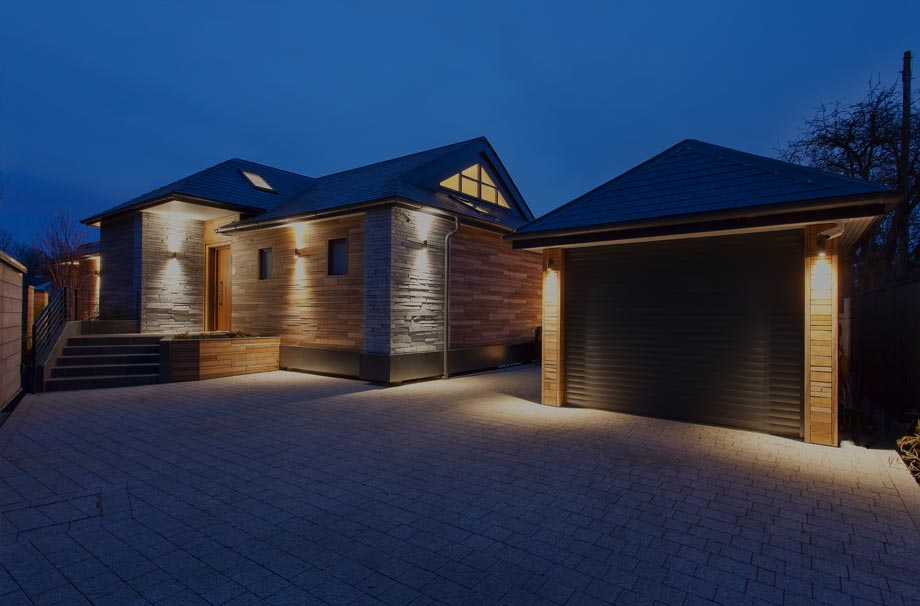 With the help of our directors (and resident lighting design gurus) Chris Linturn and Rich Strange, we make some suggestions as to how your exterior lighting scheme can help set the right mood in your garden and outside space.
Browse our beautiful lighting design projects for more inspiration.
Trends
If you're a fan of wabi-sabi – the ancient Japanese art of embracing the natural lifecycles of growth and decay – this interiors trend is now finding its way outdoors. A great way to transfer that feel in to your garden is by using natural materials such as copper. Rich tells us why: "Over time, a weathered patina appears on its surface and the organic process of oxidisation also transforms its colouring – from subtle pinks through to earthy rust tones ending in amazing sea greens." Copper lights, like this IP66 rated copper exterior spike spotlight, are just perfect for weathering the seasons alongside you. Alternatively, you could just sack the gardener.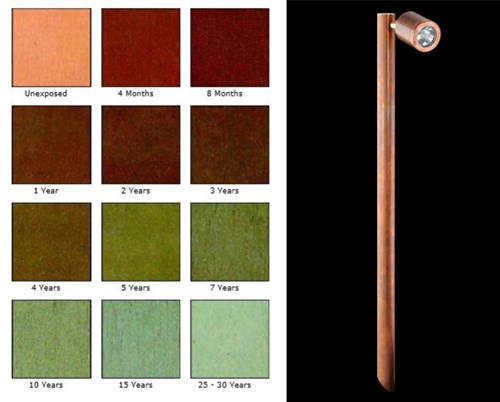 Copper weathering chart, used with kind permission of the Copper Development Association.
Colours
Most of our clients seek a warm ambient glow when choosing their garden lighting. This tone works well in any style of exterior space: from sleek, contemporary seating areas to rustic, unstructured courtyards. To achieve this intimate feel, go for golden coloured, warm white LEDs in a low colour temperature, around 2700K. As a rule, the higher the colour temperature, the whiter the light. Wherever possible, the guys install in-situ samples of the lighting fixtures they recommend to their clients. This gives a really good picture of what the final scheme will look like and helps avoid any unwelcome surprises.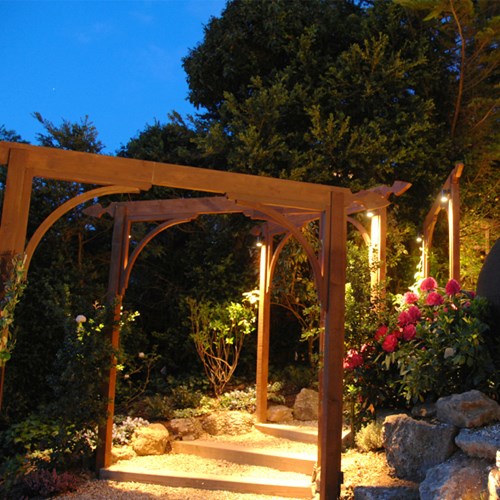 A warm golden glow wraps itself around the curves of this beautifully rustic space.
Light Levels
Chris and Rich also encourage people to "play with the light and the dark" when choosing garden lighting, and to avoid flooding areas with light unless it's for security purposes. "Any security lighting you have can be wired on to a separate circuit and switch, to ensure you achieve the right atmosphere for your needs", says Chris. Think less pre-match, more pre-dinner drinks. Also, by highlighting key shrubs, sculpture or even the interesting architectural features of your house you can draw the eye to exactly where you want it: create an inviting scheme by installing subtle up and down lights to walls and garages to eliminate glare and attract attention to unusual textures. The key is to define an area without completely saturating it.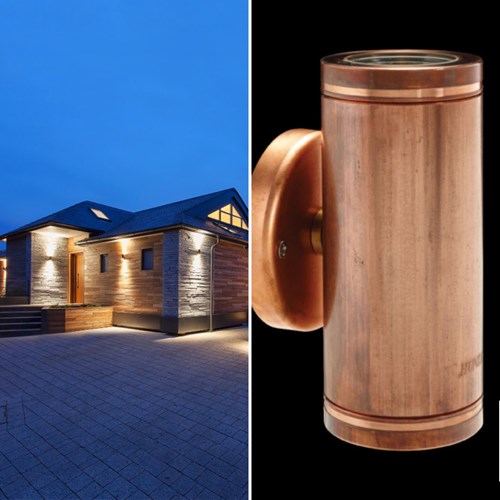 These discreet up and down lights were positioned to pick out the gorgeously textured split face cladding of this two storey house.
We hope that we've been useful. Always remember that outdoor lighting works hard for your home whatever the season – spotlighting a favourite tree or ornament enables you to enjoy it from the cosy warmth of your home all year round. And even in the bleakest of midwinters, exterior lights have the awesome power to make your indoor space feel bigger by drawing the eye outwards into the depths of the garden.
If you've been inspired and want to speak to us about your exciting lighting plans, we'd love to hear from you. Just give us a call on 01189 882294 or pop us over an email at design@darklightdesign.com.
Alternatively, get your pic fix on our Pinterest outdoor lighting ideas board or Houzz ideabook or give us a follow on Twitter, Facebook, Instagram.
As always, thanks for reading and happy designing.
The DD Team.
This article has been cunningly adapted from our blog 3 Expert Tips for Outdoor Lighting.
---
---