Behind the Scenes: Meet our Apprentice – Matt Smith
Posted February 19, 2018 by Natalie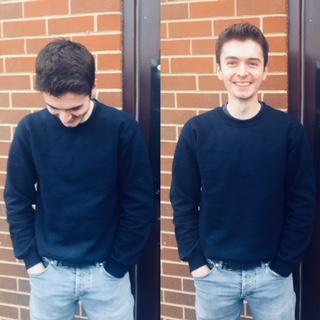 The Apprentice. 
You may have already met Matt. You'll almost certainly be familiar with his work if you've ever contacted us, or visited our website. Or entered an eating competition in the Berkshire area. Matt Smith (aka 'Smithy' or 'Little Matt' as he's affectionately known in the office due to being the second, smaller Matt to join the company) is our First. Ever. Apprentice. He's been with us for nearly a year now, so we thought it only polite that we introduce you properly. Let's speak to Matt, along with directors Chris Linturn & Rich Strange, to get the lowdown on how it's all going and how it came about.
So, why go down the apprenticeship route?
Rich: "We needed some cheap labour! No, it just seemed like the right time to take the next step in the business, and if we could help somebody that was trying to get their foot in the door at the same time – all the better."
Chris: "Yeah, we've always liked the idea of investing in Darklight's future by 'growing our own'. Taking on Matt coincided with the lighting sales side of the business expanding; we needed another team member to help keep our existing clients happy whilst we tried to secure more clients in the UK and overseas."
Matt: "For me it was the opportunity to work and start my career whilst I was still studying. It seemed to be the best of both worlds really."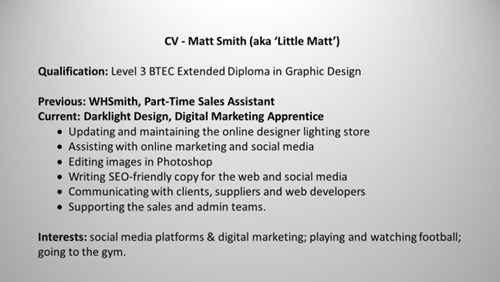 What made you choose to work with each other?
M: "Well, the apprenticeship that Darklight were offering ticked all my boxes so it stood out to me." Matt's background is in graphic design and digital marketing. "It offered everything that I was interested in and had the potential to get involved with the lighting design side of things too, if I wanted. I also liked the office and the team, which helped me to make up my mind".
C: "We were instantly comfy with him, he seemed like a good fit for the team. He brought along his portfolio which showed he was obviously passionate about design."
R: "Yeah, he interviewed really well and it was clear from the start that he wanted to learn".
C: "Attitude is really important to us when it comes to taking on somebody new. Nobody can teach you to have a good attitude – you either have one or you don't. Unfortunately in Matt's case, his stinks." (Grins at Matt).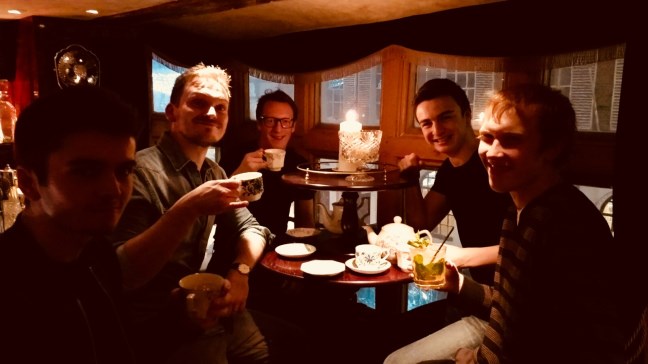 The induction begins… (Little Matt, front left; Chris, centre; Rich, behind the camera).
How's it all going then?
C: "In all seriousness, I think it's going really well."
M: "Yeah, it is. It's very different from my previous job. There, I was working part-time for a huge business – WHSmith – whereas here it's full on and I'm working right next to the directors. And working so closely with them I get to hear everything straight from the horse's mouth, which I prefer".
Although mainly working on the digital marketing side of things, Matt's been gaining experience across all areas of the business and says it's helping him to figure out the 'why' behind the 'what' he is doing and "how everything is connected".
M: "I've learned loads already and been able to put it in to practice. On the digital marketing side, I'm looking at SEO and meta tags. I've learned some good life skills, such as how to communicate professionally with people and how to work with others in order to achieve business' targets. I've also learned some technical skills, such as how to assemble, prepare and test our bespoke lighting fittings ready for installation.
"I am finding it tough having to study after a long week at work, when all I really want to do is just chill out for a bit. But it's a great team here and I really enjoy what I'm doing, so it's all worth it."
R: "He's integrated really well with the team, he wants to learn and works hard and you can't ask for more than that. Plus he makes tea."
Matt's hard work also extends to making the odd cuppa for the team – innocuously known as a 'Smithy special'.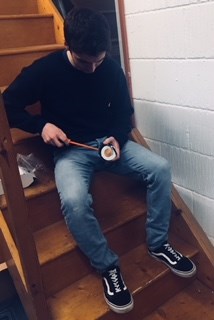 Matt apprentice-ing. Health & Safety have been notified.
What are you hoping to gain from this apprenticeship?
C: "It'd be really nice to feel that we've helped a younger person in to the lighting or design industry. We're still doing it after all these years and love it, so it'd be nice to pass on that passion."
M: "I'm hoping to progress as far as I can within digital marketing. It's hard, combining work and study, but who knows where it'll take me – if I'm lucky maybe one day I'll be the next Chris or Rich!"
R: "You'd never be that lucky mate!"
So what next?
We hope you've enjoyed a little peek behind our scenes. If you'd like to get more updates about us, or about our favourite subjects of lighting design, interiors and architecture, follow us on Twitter, Facebook or Instagram. In case you were wondering, Matt didn't win the eating competition but he did get a delightful t-shirt for his efforts.
Thanks a lot for reading, see you again soon.
The DD Team.
---
---