How to Get the Perfect Spa Bathroom Lighting
Posted January 8, 2018 by Natalie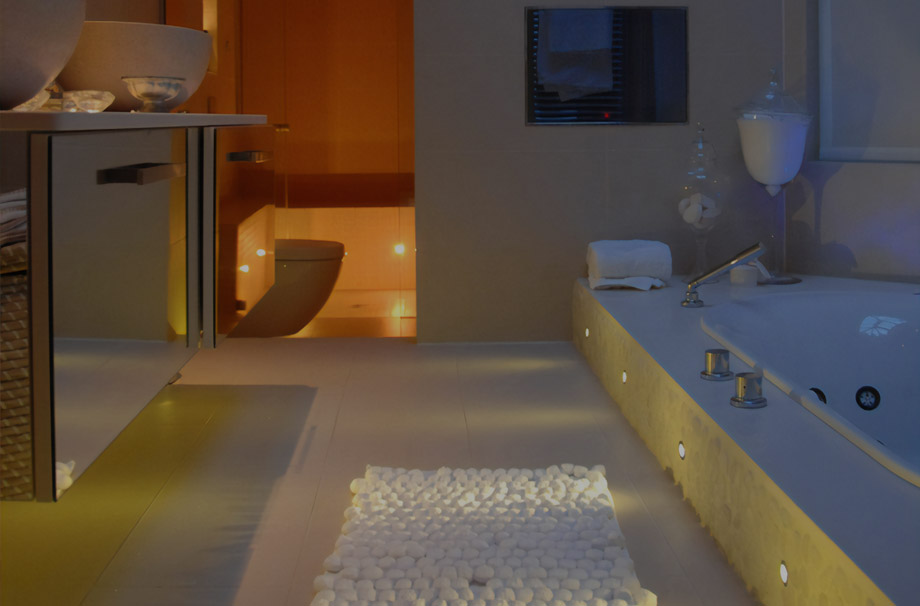 Aching to escape from the rest of the world without leaving the comfort of your home? A spa-style bathroom is the perfect retreat for soothing your body and mind and the lighting you choose is the canvas on which you can sketch your ideal bathing space. Ease yourself into our pool of ideas and start planning your ideal home-spa.

Main Bathroom Lighting
Getting the mood right is key. The space needs to be bright enough to brush your teeth, yet gentle enough to unwind in.
Installing two lighting circuits
is a great solution; one circuit provides the area's main lighting and the other offers a relaxing glow. The main lighting on the first circuit is usually provided by 
downlights
 (which are bright but can be dimmed) or
wall lights
 like the ones below. Placing your fittings either side of the bathroom mirror like this will also provide the most flattering light.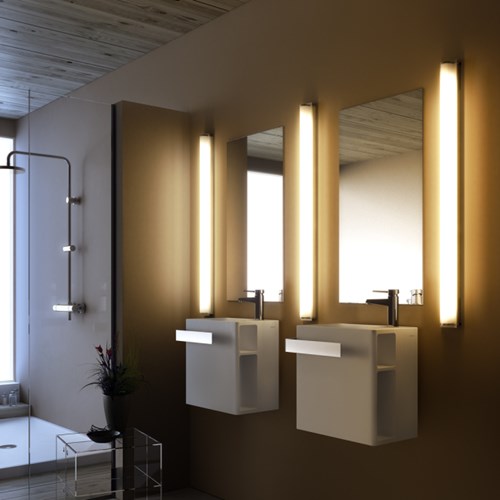 Bright but understated Manhattan wall lights from Marset.
Low Level Bathroom Lighting
Water-resistant niche lighting, uplights or linear profile lighting on the second circuit offer a softer candlelit effect (without the waxy drippings). See how the discreet niche light below beckons you into an invigorating rainforest shower.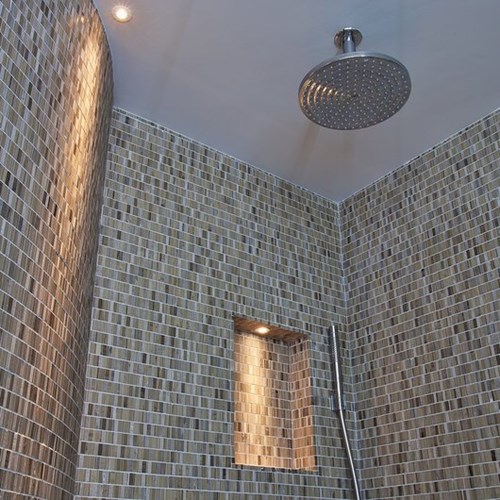 View more images from this gorgeous lighting design project here.
Uplighters behind a freestanding bath provide the perfect mood for a soothing soak (and make a feature of that sexy bespoke recessed shelf).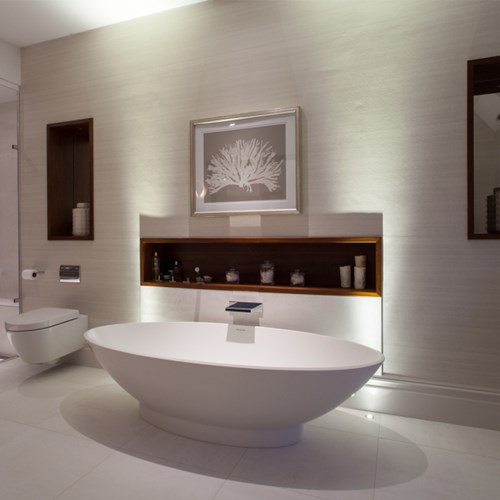 More lovely images from this project here.
This image shows how a luxe metallic tub can really pop when lit by LED strips concealed in invisible housings.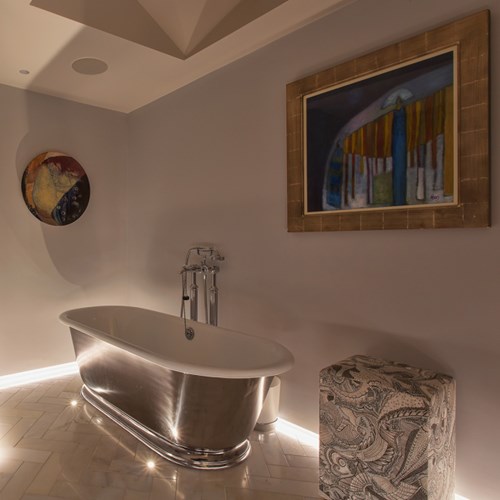 The discreet glow of cove lighting, or profile lighting, is also effective when laid around the edge of your wet room or shower room. A functional yet calming presence.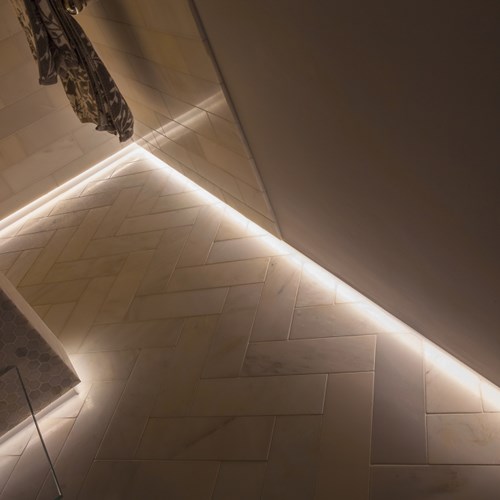 See more from the Boat House project.
Colour Changing Lights for the Bathroom
Colour changing lights are another option for creating a soothing atmosphere. While the main circuit lighting is concerned with business – providing the best environment for perfecting your make up / getting a really close shave, etc. – colour changing lights are all about pleasure. You can choose which hue you relax to, or gently alternate across the spectrum. You can also dim those bad boys to create an even more intimate setting.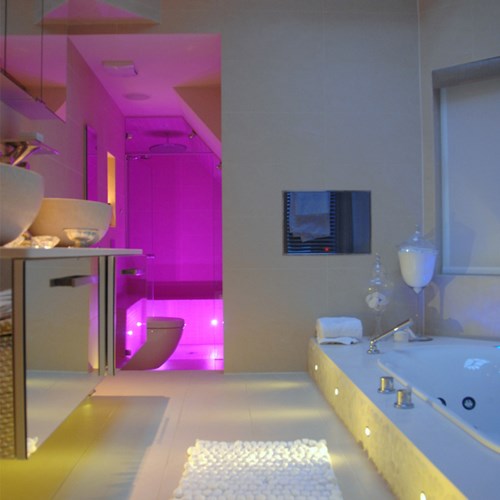 Bathe yourself in colour. View more images from this project.
Waterproof Lights for the Bathroom
A little less glamorous, but well worth knowing about, are IP ratings. It goes without saying that water and electricity are not good bedfellows, so when choosing your favourite spa bathroom lights check which zone they will be installed in and, therefore, which IP rating they should be. And do remember, it's always best to use a qualified electrician for any bathroom lighting project – even if your middle name is Danger.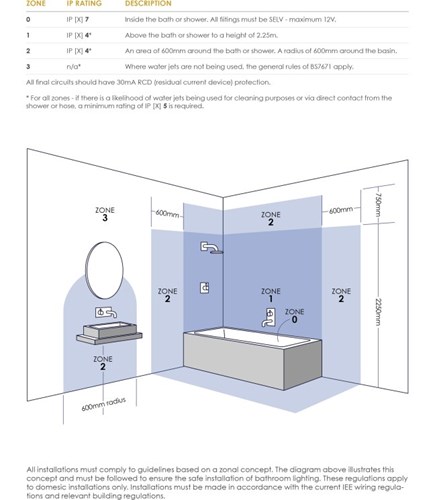 Handy guide to lighting regulations for bathroom zones.
A quick guide to bathroom zones and IP ratings:
Bathroom Zone 0: Use light fittings with a minimum IP rating of IP67
Bathroom Zone 1: Use light fittings with a minimum IP rating of IP65
Bathroom Zone 2: Use light fittings with a minimum IP rating of IP44
Bathroom Zone 3: Use light fittings with a minimum IP rating of IP20 
For more fascinating facts about bathroom zones and IP ratings, visit our super LED lighting blog. And for great tips from us and other experts about how to achieve brilliant interior lighting schemes, pop over to this blog and find the perfect lighting for your home.
So if you're thinking 'that's all well and good but who will fluff my towels?', then our work here is done. We hope our spa bathroom lighting ideas have inspired you to create your own heavenly haven. If you have any questions at all, or if you'd like to speak with our experienced lighting designers about your own bathroom project, please get in touch on 01189 882294 or email us at design@darklightdesign.com.
For even more inspiration, why not head on over to our Pinterest board or Houzz ideabook?
Thank you so much for reading,
---
---