How to Avoid Buying Harsh LED Lighting
Posted September 5, 2018 by Natalie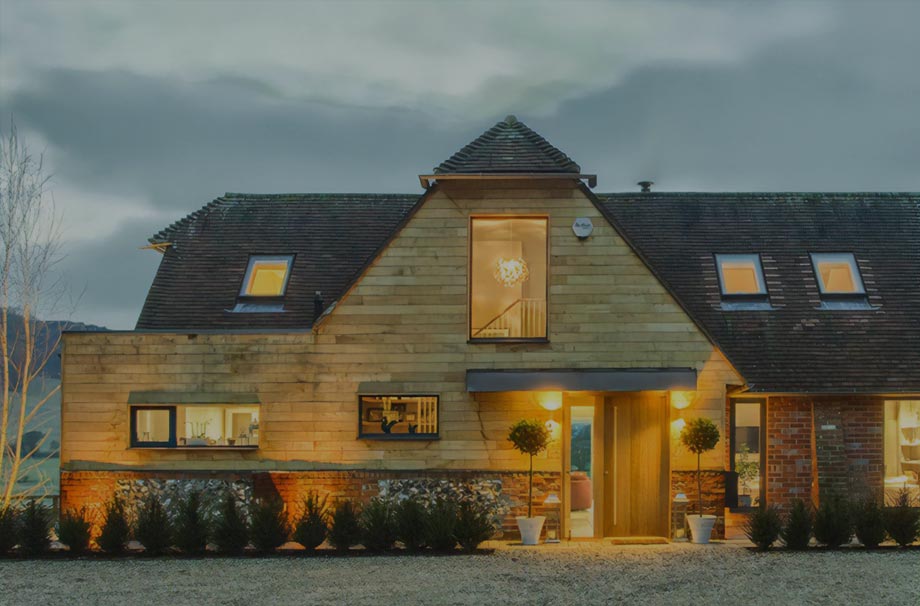 With the sale of incandescent light bulbs banned and halogen bulbs being phased out, it seems that LED lighting really is top banana now. But isn't it all a bit sterile looking? Won't it hurt my eyes and harsh my mellow? Not necessarily so…
Firstly, here are 4 good reasons to use LEDs:
Energy efficient – they use up to 90% less wattage than traditional incandescents.
Eco-friendly – safe to use and dispose of, they don't contain toxic materials (incandescent and CFL contain lead and mercury) and their heat sinks remove any heat they produce.
Longer lasting – up to 50,000 hours compared with c2,000 for incandescent, c4,000 for halogen and c20,000 for CFL.
Cheaper – to run than their alternatives because they use less energy and need replacing less often. They're also much less expensive to buy than they used to be.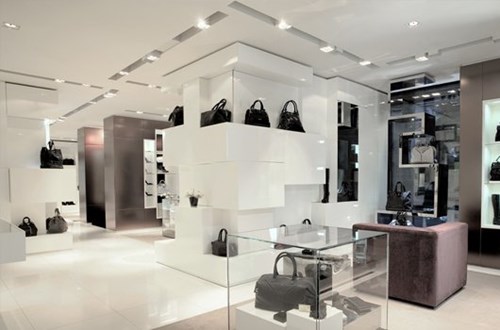 It's a great look but it's not for everybody – one of our stylish retail lighting design projects
Secondly, you can avoid the 'waiting room' look
So now that we've thoroughly convinced you of the benefits of LED lighting – *head bobs agreeably* – we can divulge the secret to buying the right LED light bulbs for you.
The key to knowing whether your new LED lamp will give off a harsh blue-ish hue or a warmer yellow tone is all in the bulb's Correlated Colour Temperature (CCT), which is measured in degrees Kelvin (K). As we all know, the colour of the lighting in a room can dramatically affect its ambience – think A&E department vs. romantic restaurant.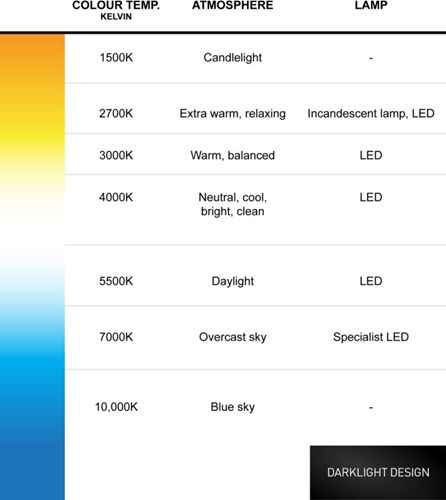 Colour temperature chart showing the huge variation available.
Warmer whites are usually preferred around the home and in leisure spaces, such as hotel lobbies and bars. To achieve this more intimate effect, you'll want to look for bulbs with a CCT of around 2700K to 3000K. They're the colour that's traditionally been associated with halogen and incandescent bulbs and can now also be found in LEDs and the newer dim-to-warm LED lamps too.
The cooler and neutral whites that our minds traditionally associate with LED lamps are much bluer in tone and more suited to office or retail-type environments, where romance and relaxation are (traditionally) off the menu. As a rule of thumb, the higher the number of K, the cooler, whiter and bluer the light appears.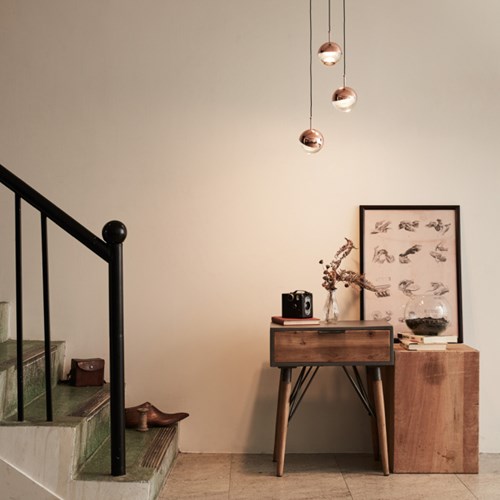 A glowing Seed Design Dora P1 Pendant cosies up the entrance way nicely.
And there you have it – keeping a close eye on those 'K's ensures that your precious spaces stay warm and welcoming. Advancing LED technology means that our homes are still homely and our leisure areas, leisurely. What a time to be alive.
Got more questions? Why not get in touch or find us on Instagram, Pinterest or Twitter.
Thank you very much for reading,
The DD Team.
This article has been cunningly adapted from our blog post 'LED Lighting – What You Need to Know'.
---
---