4 Trends We Spotted at London Design Fair 2018
Posted October 2, 2018 by Natalie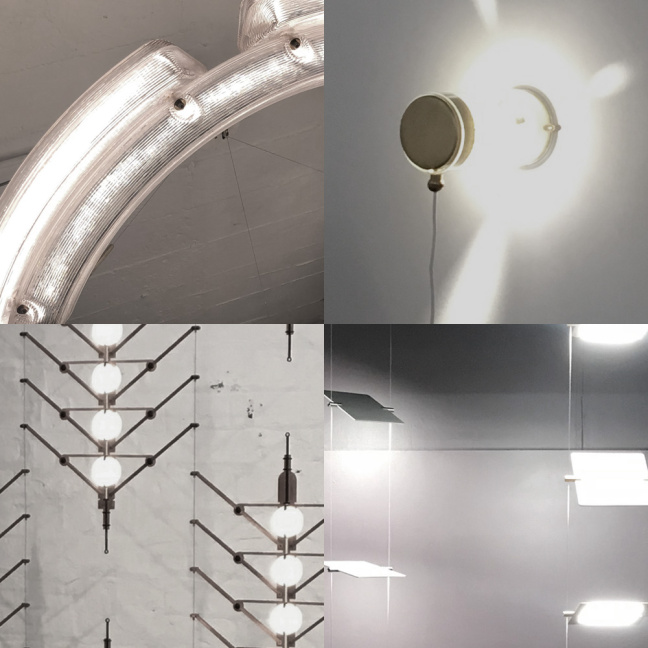 Being the tech and design enthusiasts that we are, we like to keep our ear to the ground with what's new in lighting. So two weeks ago we bimbled off to Brick Lane to enjoy the London Design Fair (LDF), the "most international trade destination" of the amazing London Design Festival.
We spent the day talking with up and coming designers about their products, methods and inspirations and got inspired ourselves by their new technology and innovative thinking.
In case you weren't able to get to the festival yourself, here we share our pick of the lighting trends that really stood out to us – and showcase them for you with examples from some of the next generation of brands and designers. Here we go…
R

ecycled materials in lighting – for the planet lover
Unless your head's been buried in a sea of single-use plastic, you'll know that recycling and upcycling is definitely on the increase. However, Dutch designer Dirk Vander Kooij introduces a method of re-using "reclaimed synthetics" that we've not seen in lighting before. His unique application of low-resolution 3D printing earned him a Dutch Design Award in 2011 with his Endless Chair.
On display at LDF 2018, his Buitenhuis Chandelier envelopes hundreds of tiny LED lights within crystalline ribbons of recycled content, formed from materials such as CDs and rooftop windows. Beautiful, ethereal and brilliantly engineered, Dirk assures us that it's also "easily dimmable—thankfully."
View more of his playful products and eco-friendly designs at https://www.dirkvanderkooij.com/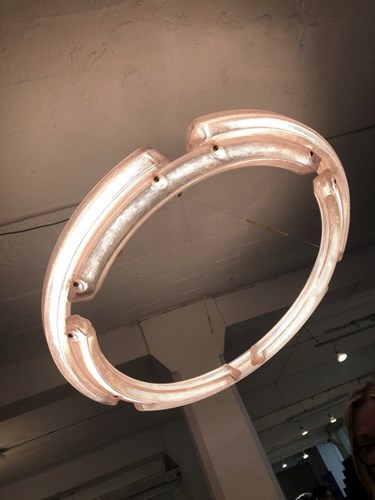 A friendly giant – the Buitenhuis Chandelier from Dirk Vander Kooij.
Multi-functional light – for the early adopter
Consumers (i.e. you and us) are demanding more and more from their products in their increasingly time poor and spatially restricted lives. What we liked about this next product is the way that it can be used for a function other than just a light source.
Riflesso from Olive Lab is a "wall clock that uses simple beams of light as a way to show the time" – using an LED source and a reflection system both driven by a brightness sensor. Another interesting thing about their offering is that this ambient light sensor will auto dim the lamp as it gets dark – not quite 'human centric lighting' but very clever all the same.
Based in Italy and only recently formed in 2017, Olive Lab's motivation is "the poetic but functional aspect of lighting". See more of their unusual and sleekly designed lighting at https://www.olivelab.it/
Light as a room furnishing – for the decor lover
Throughout history, we've always valued the ability to personalise our space and belongings (think monogrammed luggage and 'woz 'ere' style graffiti). Nowadays, customisation of the products that we buy is almost becoming an expectation.
Eindhoven-based VANTOT's Current Curtain isn't your average wall light – it can take the form of a piece of art or even function as a room partition. Its low voltage LED makes it safe to touch and live amongst you and your furnishings. A sculptural-like curtain of ambient lighting, its shape and size can also be altered to your liking; you can add or remove its LED modules and suspension wires to suit your space and your needs.
VANTOT aim "to involve the user differently" with their works. Find out more about this interesting young company at http://www.vantot.com/blog-1/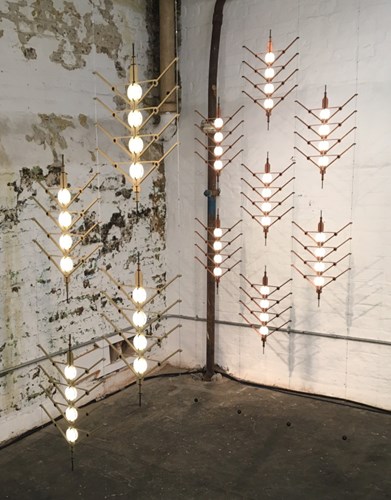 VANTOT's Current Curtain looking amazing at LDF 2018.
Panels of light – for the tech lover
We first saw it about 4 years ago in Hong Kong, but OLED technology is definitely becoming ever more present in product design. Constantly being explored in TVs, OLED's popularity is now growing in the lighting industry too due to the nature of its technology.
Lieke Lights is based in Helsinki and launched their Lieke Pendant earlier this year, which combines pure raw materials with the latest OLED technology. OLED creates a larger surface area of light, as opposed to the pinpoint effect we see with LED bulbs. Thin panels of light can be mounted horizontally or vertically on walls or ceilings in spaces that are traditionally difficult to illuminate – such as vaulted ceilings and around corners – making it a really flexible lighting option.
Lieke Light's philosophy stems from their Nordic situation, where "the strong contrast of the seasons gives light a special role which we want to embrace and share forward." Definitely one to watch.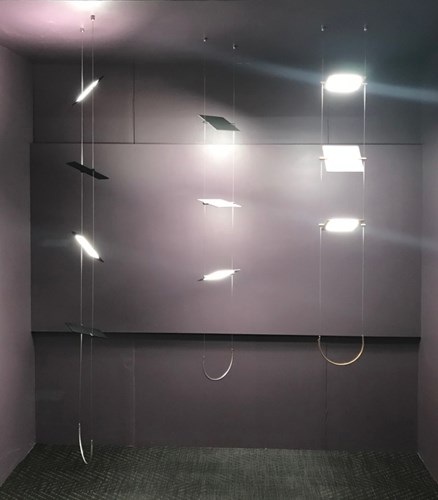 Just hangin' around – the Lieke Pendant from Lieke Lights.
So there you have it, the 4 trending developments in lighting that we thought you should know about – exciting new ways of creating it, displaying it, using it and diffusing it.
Have we missed anything? Let us know if there were any other trends you spotted at the festival, either in the comments below, or on Instagram, Twitter or Facebook.
See you soon and thanks for reading!
The DD Team.
---
---