LED Lighting – What You Need to Know
Posted November 27, 2017 by Natalie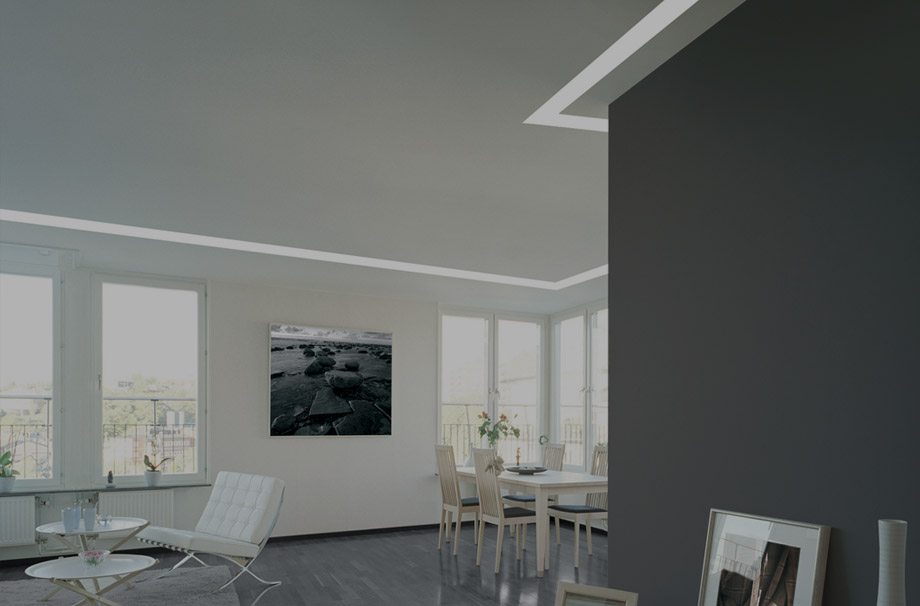 Wondering how to achieve that look? What you need is a quick guide to LED. Oh wait…
With the sale of incandescent light bulbs now banned and halogen bulbs being phased out, it seems LED lighting is top dog. But what's all the fuss about? And how do you choose between the various different types? That's where this handy little guide to LED lighting comes in. Read on to find out what's important for you and how to decipher all that tricky terminology on the box.
What are LEDs?
Glad you asked. LEDs (light-emitting diodes) are a type of electronic light source that use advanced semiconductor technology – as opposed to electrical filaments, plasma or gas – to generate light. Now widely available in the most commonly used bulb types, including GU10, B22, E27 and MR16, they were one of three main energy-saving technologies brought in to replace incandescents. Their competitors – halogen and CFL (Compact Fluorescent Lamps) – apparently having fallen by the wayside, LED is now leading the way. Let's shine a light on why…
Why use LEDs?
Energy efficient – they use up to 90% less wattage than traditional incandescents.
Eco-friendly – safe to use and dispose of, they don't contain toxic materials (incandescent and CFL contain lead and mercury) and their heat sinks remove any heat they produce.
Longer lasting – up to 50,000 hours compared with c2,000 for incandescent, c4,000 for halogen and c20,000 for CFL.
Cheaper – to run than their alternatives because they use less energy and need replacing less often. They're also much less expensive to buy than they used to be.
Attractive – new dim-to-warm LEDs behave more like halogen and traditional bulbs as they fade to an ambient glow. For more juicy info on this spiffing new tech, raid our dim-to-warm blog article.
What does the terminology mean?
If you've ever bought an LED bulb or fixture, you might've wondered what those letters and numbers on the box are all about. Below, we touch on what they stand for. And just why in the heck you should care.
CCT and K
The Correlated Colour Temperature (CCT) of a bulb is measured in degrees Kelvin (K). The K value tells you what colour the light bulb will be (e.g. 'Cool Daylight 6500K'), which is important because the colour of the lighting in a room dramatically affects its ambience – think A&E department vs. romantic restaurant. Warmer whites (e.g. 2000-4000K) are usually preferred around the home and in restaurants, for example. They're the colour that's traditionally been associated with incandescent and halogen but can now be found in dim-to-warm LED bulbs too.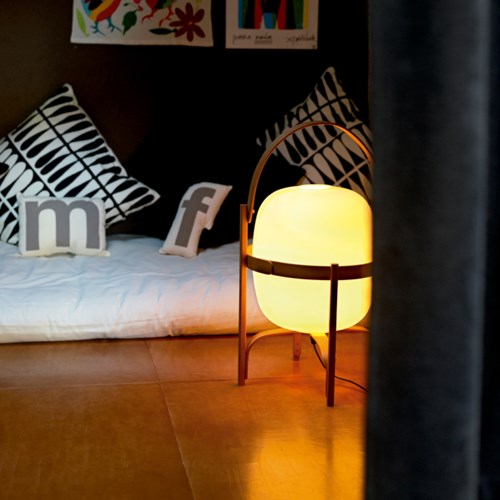 A cosy nook lit by a warm white light.
Cooler or neutral whites (e.g. 5000-7000K) are bluer in hue and more suited to office-type environments, where romance and relaxation are (traditionally) off the menu. As a rule, the higher the number of K, the cooler, whiter and bluer the light appears. As you can see from our table below, daylight colour is even whiter and slightly bluer. Daylight also provides the best 'colour rendering', which is what we'll look at next.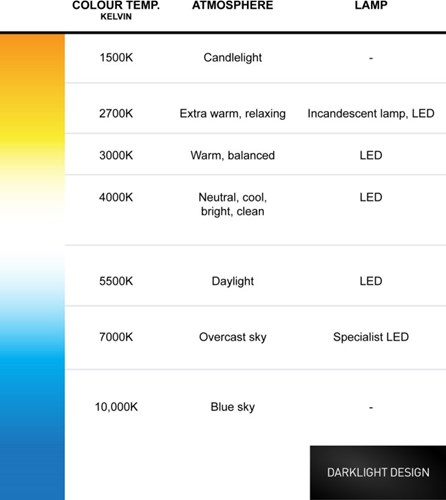 How the colour temperature of a bulb affects the ambience of a room.
CRI
Each bulb is given a Colour Rendering Index (CRI) score out of 100. This measures the ability of a light source to accurately represent the different colours in its surrounding environment. Traditional and halogen bulbs have near perfect scores in the high 90s. LED and CFL are usually in the mid 80s, however a value of 80 is still considered very accurate and is used in most lighting situations. High CRI LED tape is available though which has a value of 90 out of 100, and is great for making the art on your walls really pop.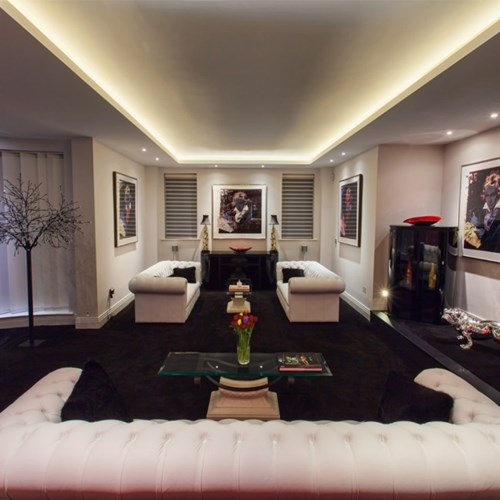 High CRI architectural LED linear tape lighting beautifully represents the colours in these paintings.
LM and W
Lumens (LM) measure the brightness of a bulb, aka its 'lumen output'. A bulb's brightness used to be measured in watts (W), but because new energy-saving bulbs use less energy (watts) to power the same amount of brightness (lumens), wattage is now purely a measure of the amount of energy that's needed to power the bulb. But we digress. In short – the higher the number of lumens, the brighter the light. As a guide, around 400 lumens is fine for a bedside table lamp, but for a decent-sized living room you'd generally want between 1,500-3,000 lumens in total (probably from a combination of different light sources such as pendants, wall lights and floor lamps).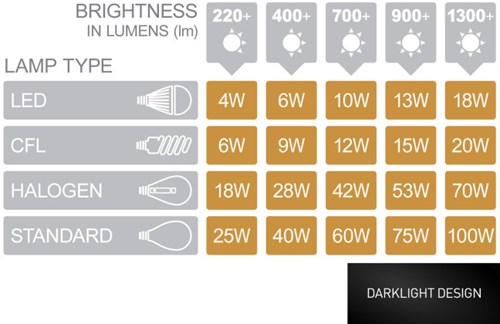 The energy efficiency of LED lumen output is far superior to other bulb types. End of.
IP Rating
If you've seen the phrase 'IP Rating' and wondered what it meant, allow us to blow your mind. IP ratings are internationally standardised, consisting of the letters 'IP' (standing for Ingress Protection) followed by a two digit number. These numbers tell you how well the lights are sealed against anything that could intrude into them which could result in either personal injury or could cause the light to break. The first digit refers to such potential intruders as body parts (ooh!) or dust, and the second digit relates to different types of water intrusion. They basically tell you in which locations a particular luminaire can be safely used and installed. For example, not every type of light will be suitable for use in your shower room or in your garden. Unless you're a big fan of near-death experiences. Below you can find out what some of these ratings mean:
IP20 rated – not waterproof
IP44 rated – splash proof, suitable for some bathroom zones
IP65 rated – waterproof, not protected against jets of water
IP68 rated – suitable for underwater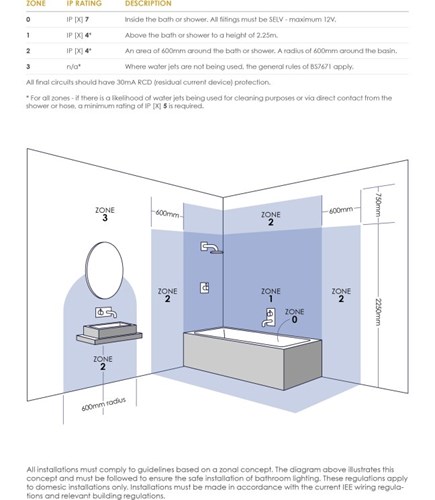 Lighting regulations for the different bathroom zones.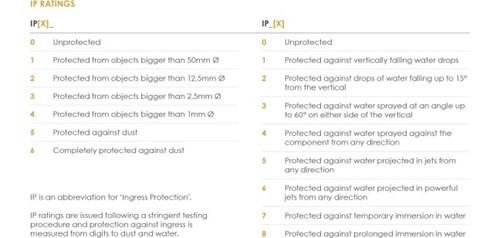 IP ratings for exterior or garden lighting.
And finally… one last thing to consider when buying LEDs for your home is whether you can fit and replace them yourself, or if you'll need an expert to do it for you. LEDs are divided into two main types: retrofit and integrated. Retrofit are the types of bulbs you'd encounter when buying 'off the shelf' type lights. Integrated LED fittings, however, are a bit more specialist (like the fancy lighting shown in the header image of this article).
Retrofit LED bulb features
Attractive – they look like traditional incandescent or halogen bulbs.
Easy to use – designed to work with existing light fittings, easily used as direct replacements.
Widely available – used in decorative light fixtures, such as wall and pendant lights.
Long lifespan – 15,000-30,000 hours.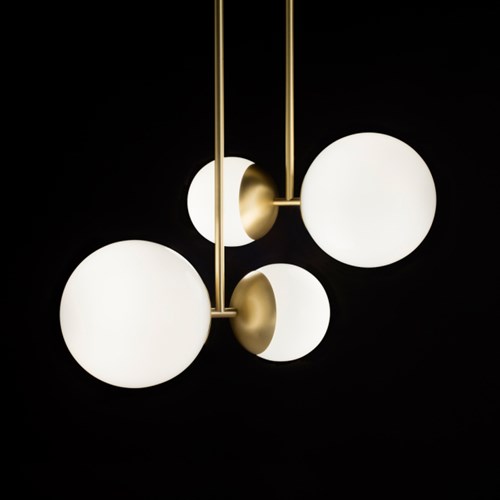 A gorgeous example of a retrofit LED pendant – the Tato Italia Biba Pendant
Integrated LED fitting features
Specialist – found in architectural light fittings (downlights or uplights).
Better quality – far superior quality and quantity of light.
Even longer lifespan – up to 50,000 hours.
More work – you can't just change the bulb but would need to change the entire fitting which involves an electrician. Also, they need separate drivers to reduce the mains voltage to the correct voltage required to supply integrated fittings.


Showing off our architectural lighting prowess in Toni & Guy's first ever barbershop.
Don't be alarmed but we've now reached the end of this little reference guide. We hope you've found it useful. Interesting, perhaps. (Too far? Ok, then). We like helping you do what you do, so if there's anything you'd like us to expand on further either let us know in the box below, give us a call on 01189 882294 or email us at sales@darklightdesign.com.
All the best,
The DD Team.
---
---