3 Expert Tips for Perfect Outdoor Lighting
Posted November 22, 2019 by Natalie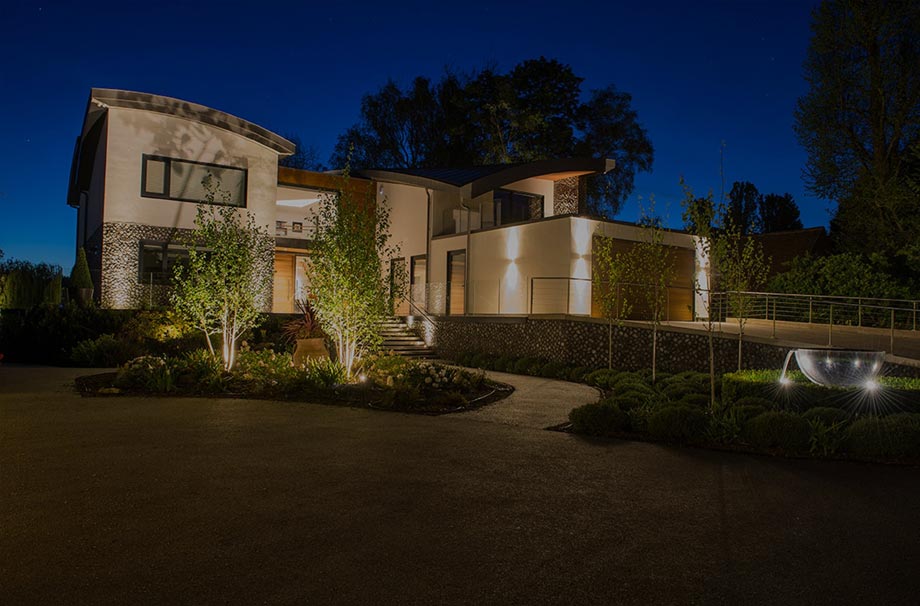 Great exterior lighting helps you enjoy your outside space from the patio table and the warmth of your sofa. But it can be tricky achieving an outdoor area that's usable and beautiful whilst not digging up the entire garden. Here are our top three tips to help you ensure that, this year, you get the outdoor lighting that's perfect for you.

For specialist IP68 exterior lighting submersible for flooding, see our Grey Sails project.

1. Zone-off outdoor lighting areas
The first place to start is to visualise how you'll use your outdoor living area. Will you be using the whole of your garden when the light fades? Or would you just like to enjoy a sundowner or three on the patio? "Most people don't want their exteriors lit up like Blackpool Illuminations", says Chris our director. "By highlighting key shrubs, sculpture or even the interesting architectural features of your house you can create the perfect spaces for outdoor entertaining or relaxing".
If sharing a meal with your family in the warm evening air sounds appealing, why not create a an outdoor dining area? Chris recommends installing a 5amp socket under your table. This allows for a large decorative exterior floor lamp to be positioned over it, providing a practical solution whilst bringing some quirky home comfort to the great outdoors.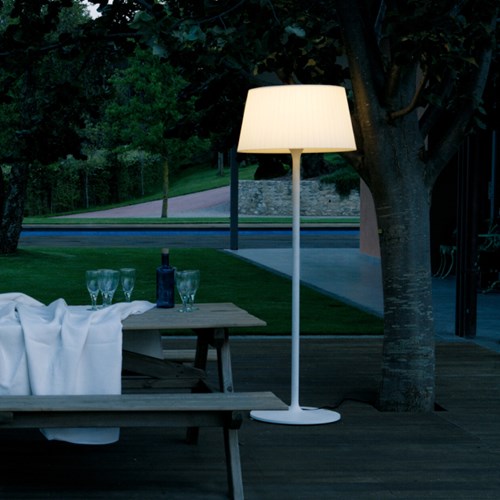 The Vibia Plis Exterior Floor Lamp presiding over your average family outdoor dining area.

Lighting also helps you link zones together. Low level step lighting and path lighting guarantee your garden party guests don't spill their Chablis, whilst turning functional features into focal points. The image below shows concealed linear LED lighting beneath steps, using LED tape and profiles. This provides glare-free guidance whilst showcasing the structure's eye-catching symmetry. We also employed uplights to subtly highlight the two columns located at the base of the steps. Understated but impressive.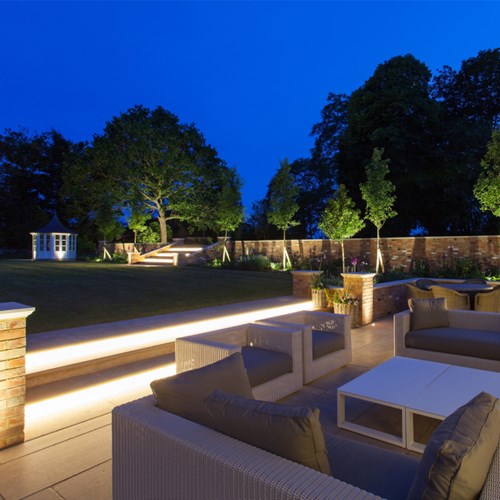 Safety first – but this outdoor lighting project doesn't forget to bring the glamour.
2. Create a consistent 'feel' with your outdoor lighting
Most clients prefer a warm glow in their garden, and avoid the cooler white lights. This effect works well for all styles of outdoor space: from sleek contemporary seating areas to a rustic unstructured courtyard. To achieve this intimate vibe it's best to go for warm white LEDs in a low colour temperature, around 2700K. These emit a golden light. As a rule, the higher the colour temperature, the whiter the light.

It's also good to not over-light areas. Chris encourages people to "play with the light and the dark" and avoid flooding areas with light unless it's for security purposes. For example, create an inviting atmosphere by installing subtle LEDs under benches and banquettes instead of fitting wall lights above them. Likewise, uplighting selected shrubs or trees using spike spotlights helps to define an area without completely saturating it. If you do have any security lights, putting them on a separate circuit and switch gives you the atmospheric lighting you want without being blinded by floodlights. 


Spike spotlights define border shrubbery in this beautiful project.

Also, always remember to 'try before you buy' - you can avoid receiving any nasty surprises at the end of all your hard work by installing in-situ samples of the fittings you want. These provide a good example of the lighting effects created when using particular products and gives you a really good picture of what your final scheme will look like.

3. Plan the best way to install exterior lighting

"One of the problems we come across time and again is where a client's previous exterior lighting has stopped working due to having been wired in 240V mains", says Chris. Water ingress from the great British weather into a 240V system can cause the circuit to trip and never function again. However, if this happens on a 24V system, the circuit is much less likely to trip due to its lower voltage. "In order for your longed-for lighting scheme to last, I always recommend wiring external systems in 24V and mounting drivers in IP rated, above ground weatherproof boxes".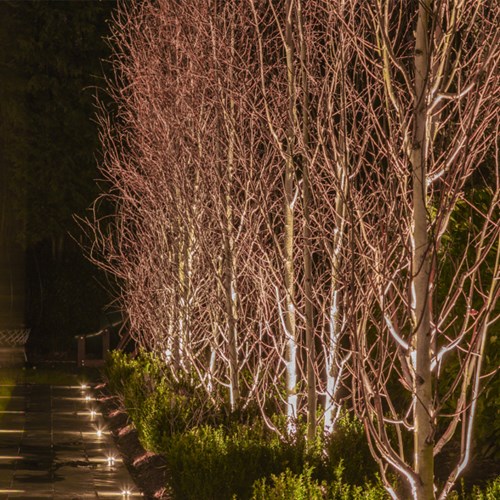 Shrubbery can hide cables and fixtures, which helps create an ethereal feel to your space.


If you're concerned about underground cabling ravaging your gorgeous garden, there are ways to minimise disruption. By combining smaller amounts of underground 240V mains with longer surface cable runs and surface-mounted IP junction boxes that house 24V drivers, you can reduce the amount of messy underground connections required. It's also possible to preserve the aesthetic of your outdoor living space by locating wires and junction boxes behind shrubs and other features. This allows access for maintenance but also lets you retain the look that you've lovingly crafted.

Finally, sharp spades and even sharper teeth and claws can wreak havoc with outdoor cabling, but using Kopex conduit for the surface runs safeguards them against any accidental damage.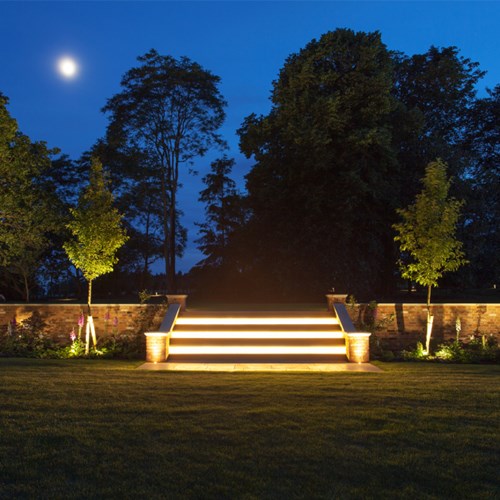 Imagine seeing this whilst you're soaking the pots.

So, shall we have a quick recap? The best way to achieve your exterior lighting dream-scheme is to plan, plan and plan some more. Consider how you'll use your space; think about the effect that you want; and finally, take some time to think about how your system will work from a practical point of view. Outdoor lighting works hard for your home all year round. Even in the bleakest of midwinters, exterior lights have the awesome power to make your indoor space feel bigger by drawing the eye outwards into the depths of the garden.

See more gorgeous lighting design project images here.
And if you'd like to read more on our thoughts about using outdoor lighting to highlight architectural features, we've recently contributed to a Lighting Guide on porch.com. 
If you'd like to speak to us about your own exterior lighting plans, we'd love to hear from you. Just give us a call on 01189 882294 or pop us over an email at design@darklightdesign.com.

As always, thanks for reading.
The DD Team.
---
---